In Fortaleza, Brasilien, wurde eine grosse medizinische Neuerung erforscht und entwickelt — der erreichte Fortschritt gegenüber aktuellen Methoden soll dermassen bedeutend sein, dass sogar die Rede einer "Medizinischen Revolution" ist. Worum geht's? Bei Verbrennungsopfer werden auf den offenen Wunden die (für diesen Zweck behandelten) Häute eines Fisches aufgetragen, den Tilapia oder Buntbarsch. Die Methode ist so gut, dass die Anwendung von Antibiotika in den meisten Fällen gar nicht mehr notwendig ist, wo hingegen sie mit den gängigen Methoden praktisch unablässig ist. Ausserdem verkürzt sich die benötigte Heilzeit markant und eine Hauttransplantation wird in den meisten Fällen überflüssig.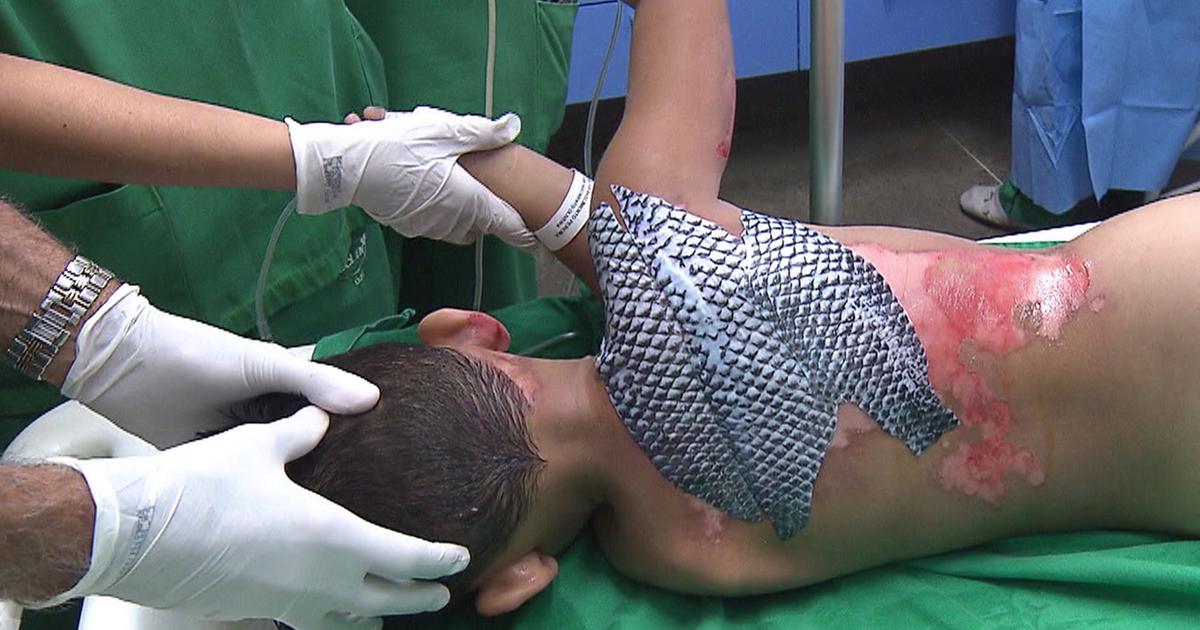 Quelle: dasErste.de
So weit so gut. Ich finde diese Entdeckung genial, denn Opfer von Verbrennungen zu werden muss, so habe ich das immer empfunden, etwas vom schlimmsten sein, das einem überhaupt passieren kann. Wenn auf diese Weise vielen Kindern und Menschen in Zukunft bei sehr grossem Leid etwas Linderung geboten wird, ist das der grundlegende Sinn moderner medizinischer Versorgung und eine noble Sache. Neben den viel zu häufigen Haushaltunglücke werden, in Zeiten höchster je dagewesener Flüchtlingszahlen aus Kriegsregionen, unzählige grossflächiger Verbrennungswunden durch Kampfhandlungen verursacht. Tragischerweise gerät auch immer häufiger die Zivilbevölkerung unter Beschuss, die Zahl der Opfer sowie die Schwere der Verbrennungen werden durch den Einsatz verbotener Streumunition und kontroverser Uranmunition in die Höhe getrieben.
Was ganz nebenbei erwähnt wird, ist für mich eine sehr interessante Nachricht, denn es heisst, es seien schon grössere Bestellungen von Militärs eingegangen, und zwar zuerst einmal vom Amerikanischen, dem Israelischen und dem Saudischen. Ist das nicht faszinierend? Ich meine, angenommen die Amerikaner haben von dieser sensationellen neuen Methode Wind bekommen, okay, sie möchten selber davon profitieren können und bestellen also einen Kontingent. Man würde doch meinen, als ahnungsloser Aussenseiter, dass falls die Amis irgendwen darüber informieren und diese Neuheit empfehlen, dann würden sie dies mit ihren nächsten Verbündeten tun, nicht wahr? Und ich habe immer gedacht, die nächsten Verbündeten der Amis seien in der Nato zu finden, doch, welche Überraschung, gemeinsamer Einkauf wird mit dem Israelischen und dem Saudischen Militär betrieben.
U.S. Support "Vital" to Saudi Bombing of Yemen, Targeting Food Supplies as Millions Face Famine
Yemen Bombed to Brink of Famine as U.S.-Backed Saudi Coalition Targets Food Supplies
Trotz der Tatsache, dass sich Saudi Arabiens Interessen in der Nahost-Region gerade zur jetzigen Zeit immer mehr den Israelischen Interessen annähern und zu einem grossen Teil auch schon decken, ist der Gedanke einer Allianz von Israel und Saudi Arabien wirklich bizarr. Ausser man glaubt dieser Theorie einer einzigen Weltarmee, die es schlussendlich geben soll. Aber dies sind nur Verschwörungstheorien, nicht wahr? Worum es hier geht, sind nur strategische und finanzielle Interessen. Es geht nicht um gemeinsame geopolitische Interessen und Ziele, sondern nur um Rüstungsgeschäfte zwischen den 3 Ländern. Die Amis decken nicht die Saudis auch auf politischer Ebene, und die Amis decken nicht auch die Israelis auf politischer Ebene, oder vielleicht eben doch? Lassen sich die 3 Länder gegenseitig einfach alles durchgehen, egal was für Schweinereien auch angestellt wurden? Und ist es nicht so, dass wenn diese 3 Länder unter sich die Spielregeln neu ausmachen, die UNO schlicht und einfach ausser Kraft gesetzt worden ist? Was sind Trumps letzte Taten in Bezug auf diese 2 Länder gewesen? Und wenn die Amis diese 2 Freunde haben, ist es doch offensichtlich, dass es den Beiden strengstens verboten ist, gegeneinander vorzugehen. Und wenn diese 3 Armeen wirklich enge Verbündete geworden sind, wenn ihre Allianz völlig frei von Formalitäten und Prozesse ist, wie es der Fall zum Beispiel bei der Nato ist, dann haben wir hier doch wirklich den Beginn einer Super-Allianz, einer vollends nicht regulierten militärischen Schlagkraft, wie sie die Welt zuvor noch nie gesehen hat. Ob diese Super-Armee dann aus einer einzigen besteht oder aus 3 verschiedenen, ist für das Endresultat völlig irrelevant.
Die EU, ihrerseits, soll ja auch eine gemeinschaftliche Armee bekommen, eine einzige, so Macron, Gabriel & Co. Wie viel einfacher wäre es dann, mit den Amis, den Israelis und den Saudis zusammenzuarbeiten, wenn man nicht mehr diese lästigen Einzelstaaten zu einem Konsens bringen muss, oder besser gesagt, zwingen.
In fila per tre == Edoardo Bennato
Dall'album "I buoni e i cattivi"
[AUTORITA']
Presto vieni qui ma su non fare così
Ma non li vedi quanti altri bambini
Che sono tutti come te
Che stanno in fila per tre
Che sono bravi e che non piangono mai...
E' il primo giorno però domani ti abituerai
E ti sembrerà una cosa normale
Fare la fila per tre, risponder sempre di sì
E comportarti da persona civile...
[MAESTRA]
Vi insegnerò la morale e a recitar le preghiere
E ad amare la patria e la bandiera
Noi siamo un popolo di eroi e di grandi inventori
E discendiamo dagli antichi romani...
E questa stufa che c'è basta appena per me
Perciò smettetela di protestare
E non fate rumore e quando arriva il direttore
Tutti in piedi e battete le mani...
[MILITARE]
Sei già abbastanza grande
Sei già abbastanza forte
Ora farò di te un vero uomo
Ti insegnerò a sparare, ti insegnerò l'onore
Ti insegnerò ad ammazzare i cattivi...
E sempre in fila per tre marciate tutti con me
E ricordatevi i libri di storia
Noi siamo i buoni perciò abbiamo sempre ragione
E andiamo dritti verso la gloria...
[AUTORITA']
Ora sei un uomo e devi cooperare
Mettiti in fila senza protestare
E se fai il bravo ti faremo avere
Un posto fisso e la promozione...
E poi ricordati che devi conservare
L'integrità del nucleo famigliare
Firma il contratto non farti pregare
Se vuoi far parte delle persone serie...
Ora che sei padrone delle tue azioni
Ora che sai prendere le decisioni
Ora che sei in grado di fare le tue scelte
Ed hai davanti a te tutte le strade aperte...
Prendi la strada giusta e non sgarrare
Se no poi te ne facciamo pentire
Mettiti in fila e non ti allarmare
Perché ognuno avrà la sua giusta razione...
A qualche cosa devi pur rinunciare
In cambio di tutta la libertà che ti abbiamo fatto avere
Perciò adesso non recriminare
Mettiti in fila e torna a lavorare...
E se proprio non trovi niente da fare
Non fare la vittima se ti devi sacrificare
Perché in nome del progresso della nazione
In fondo in fondo puoi sempre emigrare...